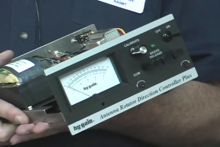 AmateurLogic.TV Episode 20 is now available for download.
George, Tommy, and Peter are back with the long awaited episode 20. Tour the Hy-Gain Factory and see how antennas and rotors are built. Peter tells us all about those mysterious 'Numbers Stations' on short wave. Plus an update on what your hosts have been up to lately, viewer email and timely topics.
It's 41:42 of Ham Radio Fun.
View in web browser Google Video or YouTube