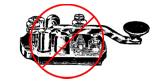 According to the ARRL website, "In an historic move, the FCC has acted to drop the Morse code requirement for all Amateur Radio license classes. The Commission today adopted a Report and Order (R&O) in WT Docket 05-235." Public Notice
The FCC said, "This change eliminates an unnecessary regulatory burden that may discourage current Amateur Radio operators from advancing their skills and participating more fully in the benefits of Amateur Radio".
Technician class licensees will automatically receive the same operating privileges currently held by Technician Plus licensees who passed a 5 WPM exam.